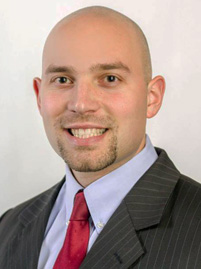 Benjamin H. Sites is the current chief deputy sheriff with the Franklin County Sheriff's Office in Franklin County, Pennsylvania. Franklin County is 773 square miles and has a population of approximately 156,000. The Sheriff's Office comprises three divisions, with 52 employees. Benjamin joined the Franklin County Sheriff's Office in 2011 as a deputy, graduating from the Pennsylvania Sheriff and Deputy Sheriff Training Program with honors that same year. He has earned his bachelor of science in history and his master of public administration from Shippensburg University.
While employed as a deputy, Benjamin served on/with the United States Marshal Task Force and Franklin County Drug Task Force. He is an in-house instructor for firearms, TASER, RACC systems, E-Bands, defensive tactics, and court security. Benjamin teaches topics such as court security, firearms, prisoner transport, vulnerability assessment, and high impact supervision for Penn State and builds curriculum for Temple University. Promoted to the rank of sergeant in 2014 to oversee the civil process unit, he now oversees all aspects of the Sheriff's Office. He has had two professional articles published, one by Calibre Press and one by Law Officer. Benjamin currently participates on numerous county/state-wide committees such as the STOP grant, CJAB, First Contact, County Wellness Committee, Court Security Committee, Franklin County Public Safety Training Center, and the Overdose Taskforce. When not working, Benjamin is involved with numerous nonprofit organizations and enjoys spending time with his family and friends. As chief deputy, Benjamin has created the office's community engagement team, obtained the office's first K9, and established the county's first drone program. Ben has been integral in instituting other modernization efforts within the office, such as online sheriff sales and new record management systems.
Upcoming Courses
No courses are currently scheduled with this instructor.