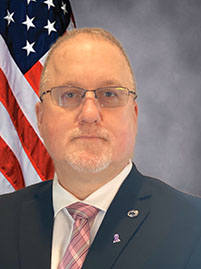 George Smith has 31 years of experience in law enforcement. George retired as a sergeant with Radnor Township Police. He was the emergency manager for Radnor Township and has wide-ranging skills in security, program management, administration, criminal investigation, training, and criminal justice. George is a methodical and safety-focused emergency manager with a law enforcement mindset alongside proven, in-depth experience executing programs decreasing criminal activities, increasing public safety, readiness, and preparedness, and proliferating community policing initiatives by developing community partnerships and engaging in strategic planning efforts. He is skilled in budgeting and administrative functions and has expertise in setting goals, managing operations, and facilitating training sessions. George is an adjunct instructor with the PA Sheriff and Deputy Sheriff Training Program, facilitating learning in NIMS and EVOC programs.
George is a veteran of the United States Air Force, participating in Desert Shield and Desert Storm, and holds a master's degree in public administration with an HR minor from West Chester University and a bachelor's degree in organizational management from Cabrini University. George is also a certified instructor through the Pennsylvania Municipal Police Officers' Education and Training Commission.
George Smith was a wonderful instructor. I would attend any of his classes and would also recommend this course to anyone.
Upcoming Courses
No courses are currently scheduled with this instructor.