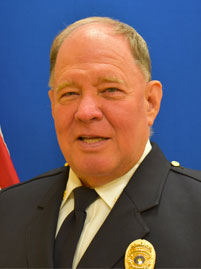 Leo Sokoloski is the director of university police for Bloomsburg University. Leo previously served as the chief of the Bloomsburg Police Department, retiring in June of 2013.
Sokoloski served as a Bloomsburg police officer for more than 25 years, focusing efforts on community policing efforts while curbing underage drinking, combatting nuisance crimes, and maintaining the overall safety of 14,500 year-round residents, approximately 10,000 Bloomsburg University students, and more than 800,000 guests at the annual Bloomsburg Fair.
Sokoloski earned a bachelor of arts in criminal justice from King's College and completed credits toward an advanced degree in criminal justice at Marywood University. He also completed police courses at the University of Louisville and Penn State, and he is a graduate of the FBI National Academy in Quantico, Virginia, and the FBI Law Enforcement Executive Development program at Princeton University.
Sokoloski, who obtained more than $3 million in grants during his tenure as police chief, teaches grant writing and police budgeting.
Upcoming Courses
No courses are currently scheduled with this instructor.