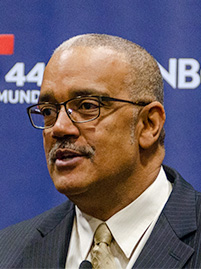 Rodney Parks is a former assistant chief of police with the Metropolitan Police Department, in Washington, D.C., with 31 years in law enforcement, serving numerous operational, investigative, and programmatic units of the department. His law enforcement career highlights include serving as homicide branch lieutenant and commander, commander of criminal investigations, and assistant chief of professional responsibility.
Rodney currently serves as head of security at the Folger Shakespeare Library, protecting one of the world's largest collection of Shakespeare's works. He teaches for Penn State's Justice and Safety Institute (JASI) and the University of the District of Columbia. He has consulted with numerous government agencies and private companies and led multiple projects to analyze and improve law enforcement operations and performance, recently working with the D.C. Department of Forensic Sciences to develop a minor degree college program in firearms identification.
Rodney holds a bachelor's and master's degree in management from the Johns Hopkins University and is a graduate of the FBI National Academy.
Upcoming Courses
No courses are currently scheduled with this instructor.