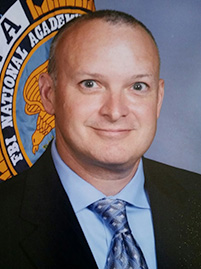 Tim Troxel is the lieutenant of police for the Upper Moreland Township Police Department, in Willow Grove, Pennsylvania. He has been with the department for more than 25 years, previously serving as a patrol sergeant, detective, and patrol officer. He also spent more than 20 years with Montgomery County SWAT, serving in a number of leadership roles.
Tim has been teaching for Penn State's Justice and Safety Institute (JASI) since 2018. He has demonstrated experience and expertise in police supervision, active shooter, internal investigations, police response involving special needs residents, EMT, use of force, and crash reconstruction.
Tim holds a bachelor of science in criminal justice and a master of science in public safety management, both from Saint Joseph's University. He graduated from the FBI National Academy and has been honored with the National Liberty Museum Award of Valor for Meritorious Community Service and the Montgomery County SWAT-East Region Officer of the Year. His article "Taking the Tactical Mindset to School" was published by Law Officer Magazine in 2015.
Upcoming Courses
No courses are currently scheduled with this instructor.