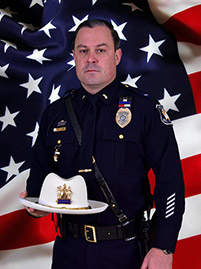 Chad Clark is detective lieutenant with Wall Township Police Department in Monmouth County, New Jersey, where he has served 23 years in law enforcement. Lieutenant Clark also is collaterally assigned to the Monmouth County Prosecutor's Office where he serves as a team leader for the Monmouth County Serious Collision Analysis Response Team. During his tenure at the Wall Township Police Department, he served in the Patrol Division, K9 Unit, Traffic Enforcement Unit, Professional Development Unit, Special Services Division, Administration Division, and the Detective Division.
Lieutenant Clark has a bachelor's degree in criminal justice and a master's in administrative science from Fairleigh Dickinson University. He has also received the designation of Traffic Safety Specialist from the New Jersey Division of Traffic Safety and Accredited Command Executive from the New Jersey State Association of Chiefs of Police.
Upcoming Courses
No courses are currently scheduled with this instructor.